---
idecay [CTF] - nowego4 - 07-07-2012

HUGE DOWNLOAD LOTS OF CUSTOM CONTENT VERY PRETTY... oh wait, wrong map. Let me see...

SUPER STREAMLINE NO CUSTOM CONTENT QUICK DOWNLOAD COMPETITIVE PURPOSES ONLY!!!!!

...blahblahblah,

idecay_v1


[CTF]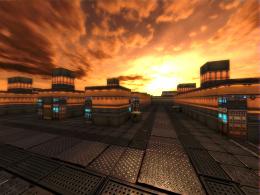 http://ompldr.org/vZW90cA/idecay_v1.pk3 ~6 MB

Bots 'n' all that pretty stuff. Stay out of the acid, 'cause it's bad for your (mental) health. IDK what this map is about (GEDDIT?)

Screw red and blue, let's do orange and green.

Keep your minimap on for this one, folks.

Leave your comments and critiques and/or hate and rage below

---
RE: idecay [CTF] - frostwyrm333 - 07-07-2012

maze...not even minimap will help you :-D

ok, interesting concept, lots of turns and places to hide, even though there are only ways two ways to get from the other side of the map, which balance it out

btw. the radiation cloud is not deadly enough, you can pass it undamaged it by jumping over or moving close to glass, and if you are very fast it will damage you only once


---
RE: idecay [CTF] - nowego4 - 07-08-2012

I put it in to avoid quad camping/obscure visibility in quad fights, not to keep people from moving through. In fact, I put a line on the floor so careful people can go around it. I guess I hadn't thought about trying to use it to actually stop up the hallway. Would that be a good thing if it did? ...perhaps it needs removed entirely?


---
RE: idecay [CTF] - Justin - 08-26-2012

Ok, there is a minimap working now and I can run capture the flag in about 30 seconds... But well.


I dislike:
The map is too large and has confusing layout.

Map is too repetetive, no contrasts, no texture differences...

Teleports are neatly designed, but they all look the same, this confuses players even more.

I like:
Layout. I know that might sound odd but even a maze has its advantages.

Morphed + drain textures compiled together give nice futuristic atmosfere.

Well choosen skybox

Its good that player can't make a capture in 10 seconds or so, but on the other hand 30 is too much.

Suggestions:
Diversify!

Make map smaller,

Delete few corridors

MAKE ARROWS OR OTHER DECALS SHOWING THE WAY TO THE ENEMY BASE!

I m verry sorry that my feedback is so late, but I had no idea about this map! I wish you good luck with it!

EDIT: make floors! Currently everything is on the same haight level, try to make some diffenerces, platforms, ramps!


---