---
2020-eLix #3: Duel - bw - 04-08-2020



Saturday, April 11th 2020, 17:00 UTC (19:00 CEST)




2020-eLix #3: Duel




Poll is closed, Time is decided


Join #xonotic.cup ( https://webchat.quakenet.org/?channels=xonotic.cup )




Bracket


Click Here



Streams


MxCam
Draena (POV)



Results


1st: Dodger
2nd: Mirio
3rd: Tommy
4th: Ramses
5th-8th: GATTS
5th-8th: SpiKe
5th-8th: Hotdog
5th-8th: packer
9th-12th: Pendulla
9th-12th: Klaspes
9th-12th: Wolf-Snipe
9th-12th: oohnos




Game Settings


Game Mode: Duel
Ruleset: XPM
Timelimit: 10 minutes
Frag Limit: None


The changes from standard XPM settings are:
If there is a tie after 10 minutes there will be an overtime of 2 minutes. A maximum of 5 overtimes can take place if there is still no winner, afterwards there is sudden death.

I removed the changed spawn settings from last week because they made games a lot more chaotic and luck-dependent than I thought. With this map pool it should not be a huge problem anyway.
See also elix-base.cfg and elix-duel.cfg in this repo.



Map Pool


Aerowalk, Fuse, Graphite, bloodrun_a3, Silent Siege, Stormkeep, Tuhma

I replaced quark_v4 from last week with bloodrun_a3.
Each duel cup, one map in the pool will be replaced by a fresh one.



Format


The format will be a 2-stage tournament with a group stage.



Groupstage


GSL Style Groups (Bo3) of 4 players.
Basically the group stage will be a mini-bracket with 4 players each. Top two will advance to playoffs.
See this image for how it works. Or click the bracket link and try to follow that.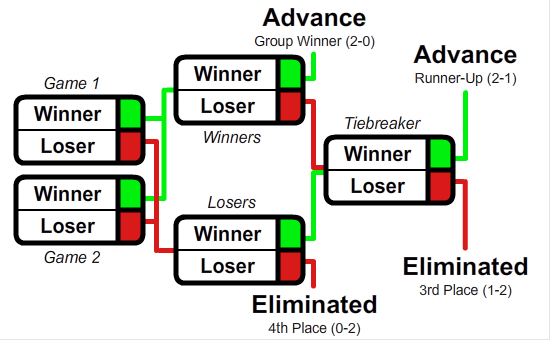 Playoffs


Single Elimination Bo3 with match for 3rd place.
The finals will be Bo5.



Map Vetoes



Best of 3 (Bo3)


Drop

Drop

Pick

Pick

Drop

Drop

, remaining map is the decider

Best of 5 (Bo5)


Drop

Drop

Pick

Pick

Pick

Pick

, remaining map is the decider



Prize Money


1st: 26€
2nd: 16€
3rd: 8€
I'm open to donations for more prize money.



Rules


I'm mostly trusting that people play fair here and won't publish a 200 page rule book. Nevertheless I want to make a few things clear:

Sign up in this thread or on IRC with any of the admins, then Check-In before the official start time. Late check-ins can not be considered.
Admins have the final say in any controversial decisions.



Disconnects


If a player disconnects or quits before 2:00 minutes have been played, the map will be restarted. Abuse of this will be punished with disqualification.
If more than 2:00 minutes have passed, the player that disconnected will lose the map by default.
If both players agree, the game can be restarted.




Time/Date




Check-In opens:

Saturday, 11th of April 17:00 UTC (19:00 CEST)



Start:

Saturday, 11th of April 17:00 UTC (19:00 CEST)



Channels


IRC
Discord



Admins


bw, Mirio, morosophos, packer



Servers


The servers will be amazing. They will run on a

125hz ticrate

(most servers use 30-60) and be hosted on amazon AWS with plenty of power in Frankfurt.
packer has kindly agreed to admin the servers



Participants


Pendulla
Splozy
bw
Wolf-Snipe
Dodger
Draena
johnnyB
Tommy
stdi
Mirio
Seek-y
Rainbow_Shadow
hotdog
Spike
Klaspes
Dog_Sacrifice
ohnoos
ramses
packer
FoxyJouk
Gatts


---
RE: 2020-eLix #4: Duel - Draena - 04-10-2020

I will stream and participate in the tournament

stream channel: https://www.twitch.tv/sl4cer/

PD: the date is wrong, btw

---
RE: 2020-eLix #3: Duel - Wolf-Snipe - 04-11-2020

Ill play in cup, wankerc :>


---
RE: 2020-eLix #3: Duel - bw - 04-11-2020

Congratulations to Dodger for Winning the 1st place prize of 26€.
Mirio for winning 2nd (16€)
Tommy for winning 3rd (8€)


---