ty.pk3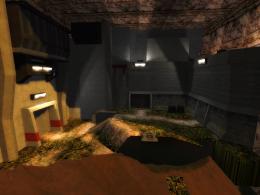 I think that I can build a map that is visually aceptable, but maybe the gameplay is going to be bullshit so I'm posting here before it is too late.
I would like to hear sugestions and critics, specially about the general structure of the map to make something playable.
Some notes:
- Most of the map is still "one texture floor-wall-ceiling"
- There are some weapons and items but their placement is not meaningful.
- It's not properly built (no vis blocking, inside a very big skybox...)
- The name is not decided yet (profanity!).
somewhere