10-05-2013, 02:40 PM (This post was last modified: 10-06-2013, 10:25 AM by MirceaKitsune.)
I decided to finally rig the UBot and make it a playable character. I know it's not wanted officially in Xonotic, but I'm sure many will love it as a mod.
Original model here
.
If anyone's wondering why it has no LOD models, it's because none are needed. The model is fairly low-poly and high quality, so subdividing or un-subdividing would both look wrong and be pointless. Animations are the same as Erebus, but the armature bones were modified to accommodate the limbs, so deformations have different proportions.
v1.1:
link 1
,
link 2
,
GIT
. Screenshots (yes, I use pics.nexuizninjaz.com, stop discriminating):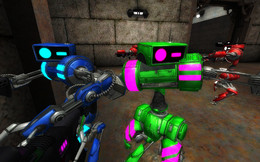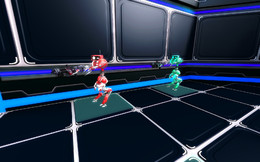 <spackObot> Congratulations to Samual and Taoki, your lovescore is 98.463%!
Samual (~dioteckte@...) quit #xonotic.pickup (gonna kill myself now)