Hey. I started a map a while ago. Couldn't finish it, but figure I'd offer the texture set instead:
GPL, bla bla. You may need to duplicate some textures (duplicate corridor00's bump/norm and gloss maps for corridor01 and corridor02), otherwise it's good to go.
About 9 textures. Dunno how useful these will be as they are not exactly complete. Hopefully they can be used alongside other textures as well.
Preview: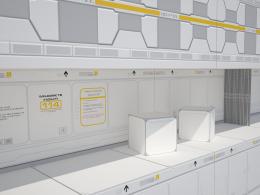 UPDATE
At tZork's request, added some trims, several more textures (including two for jump pads and elevators) in TGA's.
New File:
http://omploader.org/vNGE5YQ/facility114.7z