HUGE DOWNLOAD LOTS OF CUSTOM CONTENT VERY PRETTY... oh wait, wrong map. Let me see...
SUPER STREAMLINE NO CUSTOM CONTENT QUICK DOWNLOAD COMPETITIVE PURPOSES ONLY!!!!!
...blahblahblah,
idecay_v1
[CTF]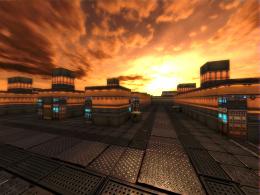 http://ompldr.org/vZW90cA/idecay_v1.pk3
~6 MB
Bots 'n' all that pretty stuff. Stay out of the acid, 'cause it's bad for your (mental) health. IDK what this map is about (GEDDIT?)
Screw red and blue, let's do orange and green.
Keep your minimap on for this one, folks.
Leave your comments and critiques and/or hate and rage below