READ BEFORE VOTING!
I thought about starting a convention, adding a poll to each map release thread with the question: "include map in the initial Xonotic release?" so that the developers can get a quick overview of what the community thinks about a certain map. So here's the first such thread, with a test version of a Dance remix!

Do keep in mind when voting:
- The maps included in Xonotic must be of very high quality both visually and gameplay-wise. They will most likely represent what a new player/reviewer/whatever will see when they play the game for the first time, and as such they must be GOOD!
- We don't need every map shipped with the release, only the very best creations by the community! More maps are easily available on a server, due to the easy curl downloads you are all familiar with...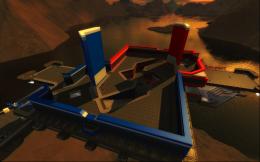 http://www.hrfdesign.com/crap/maps/ctf/dance_alpha1.pk3
You need Xonotic GIT to test, get it here:
http://dev.xonotic.org/projects/xonotic/...ory_Access
---
My vote:
yes
(big surprise

)
Reason: Map turned out even better than expected after lots of hard work, and is really easy to move around on. Good flow, good weapon placement, very fast paced (I managed to capture in 5.16s noweap with the current (29.05.2010) default Xonotic physics). Can't say much about the gameplay yet though, need to play a real match on it first! IMO skybox doesn't really fit the theme, but it creates some really nice lighting

Should maybe be a space skybox instead... (polluted earth? Not much light there however)