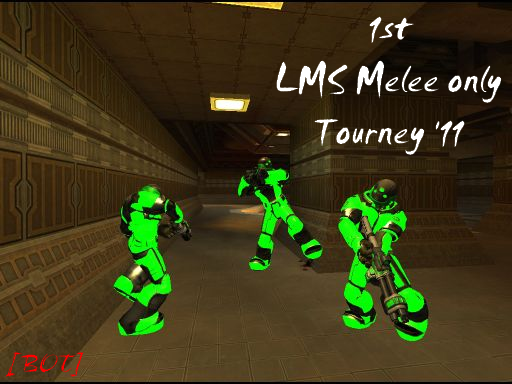 http://tinyurl.com/lmsmelee
Rules
Last Man Standing / Free For All [LMS FFA]

Melee only: Only Shotgun enabled without shell ammo (Yes, no laser. Learn trickjumping already ;]).

Timelimit: 0

4 groups à 5 players [<- can change, depends on player count]

Players will be put into the groups randomly

Have fun!!
For those who forgot how LMS works:
http://dev.xonotic.org/projects/xonotic/...n_Standing
1st Round
Each group will play 3 maps (every group the same map cycle) and the first player which loses all his lives first will be eliminated after every map. If a player is eliminated an admin calls an endmatch vote and players can end the map if they want or continue (which does not affect the tourney results, just for fun).
Ergo 2 players will be left after 3 maps and they will advance to the final (8 players).
Final
The group will contain 8 players and they will play 4 (new) maps. The worst player will be eliminated after the first map and in the second & third map the worst 2 players, which means that we have a last, 4th map, with 3 players left who slap their asses for the tourney win!
The point of this tournament is to have fun so don't forget to get Mumble (voice chat).
Mumble server: shirkhan.dyndns.org:64740
(
http://mumble.sf.net
)
Mappool
1st Round
Azalea

Darkzone

Farewell
Final
Claustrophobia

Solarium

Stormkeep

Aneurysm
Schedule
The date will be decided by voting in the poll above (multiple choice)!
Note: "<Scorpion-> I voted for friday 1st of july for the lms tourney, but now i want to change that to friday 8th

"
That means 01.07.11 gets -1 and 08.07. +1 in the end.
Date: 08.07.2011
The tourney will start at 18:00 GMT+1 (UK time/CET: 19:00) and the people who start in Group A should probably gather in IRC or at the server (and Mumble

) some minutes before.
Note: If you can't play that early, post that please and you will be put in a group which plays later.
Approx. start times (all GMT+1)
Group A: 18:00
Group B: 18:30
Group C: 19:00
Group D: 19:30
Final: 20:05
Groups:
http://tinyurl.com/lmsmelee
Server
A pickup server: srv02.xonotic.org:26500 or 26000
Sign-in
Just leave a reply with something like "I will play!" here in the topic and I will update the list in the first post. The sign-in will be open for the next 2 weeks (until 29.06.11).
Players (20)
Naryl
Mirio
Grunt
kuniuthefrogg
Mithos
CriboZai
C.Brutail
Sless
unfa
SuperMario
Scorpion
FruitieX
theShadow
It'sMe
deaf_fish
kojn
Halogene
Debugger
Samual
vipus
Hang out at #xonotic.tourney when we will play it.
Cheers.