The first thing to say about this map is that it's purpose and direction was quality, and trying to make a Doom 3 quality map for Xonotic. I added many effects and details, and depending on how people will like it I might add even more. Since the map uses many effects, the FPS is unfortunately pretty low (I don't plan to remove any effects as that would be against the map's purpose, but I'd be happy to improve the FPS somehow).
The action of the map is on a facility placed on a red dusty planet (doesn't necessarily have to be Mars). You play inside part of the facility which has many doors and windows, as well as outdoor where you have an open area with terrain. You travel in and out through airlocks, which (supposedly) cycle the pressure between the inner and outer area.
A possible inconvenience I'm aware of are the small doors, that players may run into if turning too quickly (or two players may get stuck when passing at the same time). They're sized this way so they have a correct size compared to players. I personally don't think they're that bad, after you get used to the map in a few minutes. They also cut bunny-hopping, making the map even more challenging. Depending on how people like the map, I may be making a CTF and ONS version too, where the bases are mirrored and the outside area is in the middle

This is a first beta of the map. The file names are not versioned either, so if you wish please don't put it on a public server until the final version is out (of course it's ok if you do, I'd just rather avoid a mix or confusion

). This map is meant to be added to Xonotic if it's good enough, when it will be ready (some changes will be needed for that).
Anyway here it is. Please tell me what you think, and if it's achieved it's purpose of being a playable detailed map

Link 1:
http://www.mediafire.com/?2wmdmd2zhqm
Link 2:
http://upload.ps/4wscikuwwo1q/red_planet_beta1.pk3.htm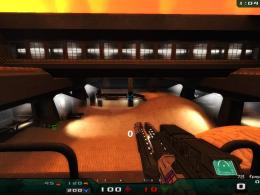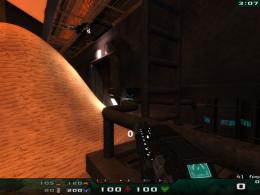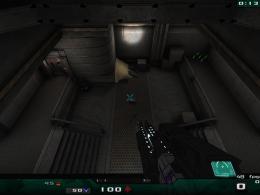 ---- Beta 2: ----
Map updated to beta 2, with the following changes:
- Blocked locked doors with crates and barrels, to make it more obvious you can't go through there. Good excuse to make some crushed doors and barrels too

- Airlock doors open faster. Doesn't make much of a difference however. Since one door needs to open as the other closes, and the triggers separate halfway inside, I don't think much can be done there.
- Put V player clips around ladders as FruitieX suggested, to make going around the balustrade easier.
- Replace door glass with the normal trak5 texture, to get rid of the low FPS. This hurts me a lot to do

If DP doesn't improve performance with reflections I'll probably put the old glass back in a few years, when everyone will have good vid cards.
- Lower the radius of dynamic lights, to improve performance even more.
- Optimized many hints including FruitieX's suggestion.
- Optimized smoke spawners a bit, so they appear more from the ground. They still appear suddenly, just that they spawn a bit lower.
- Tiny BSP changes.
- Better bot waypoints.
Link 1:
http://www.mediafire.com/?obmzi1xmtja
Link 2:
http://upload.ps/irti2o8bsg00/red_planet_beta2.pk3.htm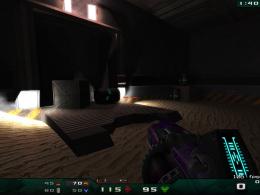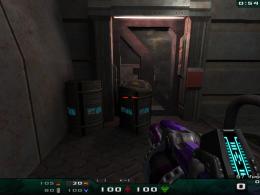 ---- Beta 3: ----
Another update with many new changes

- Disabled particle collisions. This should further improve performance by a great amount (at least what other people reported, doesn't improve much on my end).
- Optimized hint brushes in the L shaped corridor again.
- Added more BSP detail.
- Made doors open a little bit sooner (longer trigger). Made elevator doors a little faster too.
- Added coronas to rlights. Also placed a rlight with coronas on the teleporter pad.
- Lastly, the prettiest change of them all

Turned the vent above the long hallway back into a screen, using the warpzone system camera. The screen shows what's happening outside in real time, from a camera which is also visible if you look at the wall (needs reflections enabled to work).
Link 1:
http://www.mediafire.com/?zynydmnkmwo
Link 2:
http://upload.ps/ll1yich1pxxv/red_planet_beta3.pk3.htm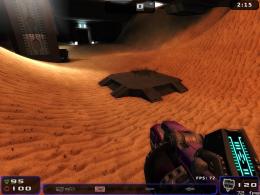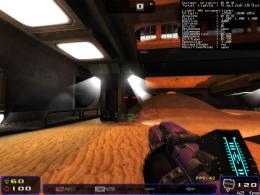 ---- Beta 4: ----
Small changes from beta 3.
- Flipped camera roll to match the fix added in GIT (update the engine or the screen will look upside down).
- Compiled with updated q3map2, which should improve bounce lightning (not seeing any difference myself).
- Tweaked the color of the teleporter dynamic light.
- Added support for Clan Arena, Keyhunt, and small mapinfo fixes.
Link 1:
http://www.mediafire.com/?tttlzmzekmj
Link 2:
http://upload.ps/xqe9emwgelcc/red_planet_beta4.pk3.htm
Link 3:
http://www.fileden.com/files/2007/6/10/1..._beta4.pk3
<spackObot> Congratulations to Samual and Taoki, your lovescore is 98.463%!
Samual (~dioteckte@...) quit #xonotic.pickup (gonna kill myself now)