06-05-2010, 02:50 AM (This post was last modified: 06-05-2010, 03:12 AM by Grasshopper.)
first off , some thanx :
devs , map testers
juliana stein for early texture help
Oblivion for cacti models
This project started pre-Xonotic . So there was no way i was going to trash this just because it wasnt following the futuristic theme . There may be xonotic version sometime later featuring that theme .
also this was the first time i did any extensive texture manipulation so dont be too hard on me

. there are some included normals and bumps and gloss . Texture sizes are according to the xonotic standards , so the download is large .... for now .
built with xonotic , time 4 months i think .
most textures come from Burning well and modified by me . other textures already in data.pk3
Game type: DM , CA
down it here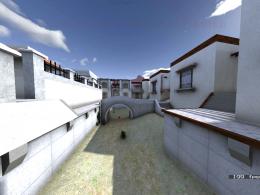 I have no signature . That is all .