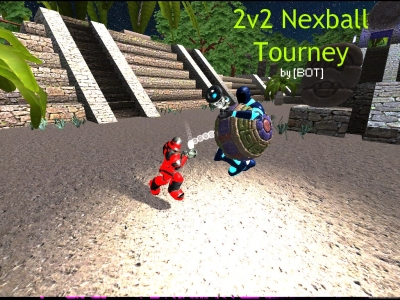 Alright! After the Melee and Duel tourneys we ([BOT]) are happy to announce to organize another fun tourney!
Everybody can sign in his team! No matter where you are from, but you have to play on an EU server.
This time: 2v2 Nexball!
Thanks to Cortez666 and his
Nexball Mapping Contest
so we got some maps.
Mayanball will be the 1st map to be played in the final.
I changed the site url from "xonduel.tourney.cc" to "xoneu.tourney.cc" to make it more general.
Main information
-Gamemode: Nexball
-Timelimit: 5 [+ Overtime if needed] -> More time is boring, thus more maps in a match
-Fraglimit: 0
-KO Stage (Single Elimination) - NO Groups!
We want to make a fast and fun tourney.
-Tourney begin: 10th Feburary 2012
-Best of 5 (Bo5)!
-Contact admins in IRC at #bot.xonotic or #xonotic.pickup
-Server: "Pink Robot's Lovely Nexball Server" (IP: 159.253.4.32:26000) - Public
Feel free to join Mumble for a lot of fun: shirkhan.dyndns.org:64740
You find further information at "Rules-Nexball":
http://xoneu.tourney.cc/
Click at "Nexball-2v2 1" under "Previous Seasons"
Also sign-in (need to register if you don't have an account already) your team there (it's explained how to do it). If you have trouble with it feel free to contact me.
Teams
[BOT]-1 = Mirio, Grunt
[BOT]-2 = kuniuthefrogg, naryl
{dear}Clan-1 = Soelen, FoGia, NBS
Conquerors = cortez, Sless
WTWRP = Nitroxis, proth
{dear}Clan-2 = Mepper, Vargos, unozzz
Team eXiLe = asyyy, qbit
bukkake = Pragento, vaan
PB = PinkRobot, FruitieX
Deathmatchers = Justin, kojn
HaL0wL = C.Brutail, Halogene
pV coco isle = RealHero, EvilKneble
APOCALYPSE NOW = ENTOU, nimbus