Oh, sure...
What the total clueless one sees: ultra.cfg + everything else maxed out:
What the casual gamer (like me) sees: normal.cfg
What you can actually achieve without any console magics: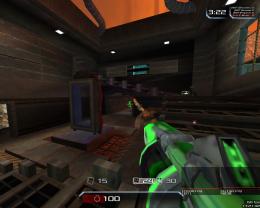 What the self respecting competitive player sees, with more knowledge on the game:
What the evil 1337 prö player sees, who not even tweaks the settings even further with the console, but replaces content too:
Edit:
Oh, asyyy pointed out a thing: the normal and ultra are a bit spoiled, because if the enemy under the crosshair uses forced models against me, he should look like the green blob anyway.
I'm not saying that those who know more about the game are needed to be punished by any means. No, that's really far from my intentions. But as you can see, some knowledge can lead you to truly unfair advantages against your opponent ingame.
"One should strive to achieve; not sit in bitter regret."