I was hoping Xonotic had more than one coder so Samual wouldn't be overwhelmed. Nor do I actually expect anyone to do any changes or put the burden on them. The main thing I wanted to get going is the conversation and see where people stand on the issue. Before even considering if it's worth doing in the first place.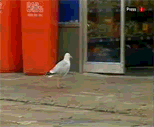 ai am ai.
Fix the avatar size limit please! I want my avatar gifs back! DISCRIMINATION!
Also, change my name to 'ai', these forums sucks which can't have 2 letters in the nick!