This has been discussed on the old Nexuiz forums I believe. I bring it back up.
Here's my take on it, feel free to either ignore it or maybe discuss it.

CTF as it is, is broken with Xonotic. It's not really a CTF game it's more or less Teamdeathmatch with a flag. There were suggestions to make the flagcarrier slower, possibly make him unable to gain speed by lasering or rocketing. The only speed allowed would be normal walk/run speed, with regular jumping to gain speed allowed.

Currently teamplay is not required. It's the guy who can go the fastest which will dominate a CTF game. I am proposing to make CTF more teamplay depended, that teammates actually have to protect the flagcarrier if a successful cap is wanted.

This is just the gist of it, I could go in more detail but I'll leave it at that as I'm lazy and you get my point. There are a few people who do agree with the general concept. How it is to be implemented, what changes etc is up for debate.

Cheers.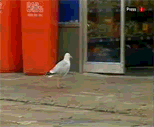 ai am ai.
Fix the avatar size limit please! I want my avatar gifs back! DISCRIMINATION!
Also, change my name to 'ai', these forums sucks which can't have 2 letters in the nick!