05-16-2011, 05:18 AM (This post was last modified: 05-16-2011, 05:19 AM by Lee_Stricklin.)
Before completely getting my hands on it, I already see some major problems in the screenshots showing off the new weapon glow. Hopefully these screenshots will point out the problems so that they can be fixed before 1.0.
Here's what I spotted:
Weapon sights and parts of the weapons not initially painted with player color, now have player color which looks VERY bad.
The glow is EXCESSIVELY bright which will cause MAJOR DISTRACTIONS in first person view.
Fixes:
Get rid of player color on weapon sights and weapon parts that already had their own glow.
Tone it down so that I don't have to wear sunglasses, turn off bloom, and/or lower my contrast and brightness to play not to mention let me focus on what's happening in the game instead of getting distracted by my weapon. I HAVE ADHD DAMMIT!
Screenshots, maximize them to see what I'm pointing at as a lot of details aren't visible in the thumbnails: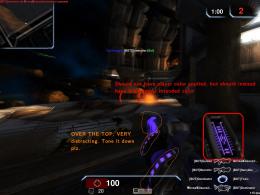 ECKZBAWKZ HUGE LIST OF ACHIEVEMENTS GOES HERE....


Oh wait.